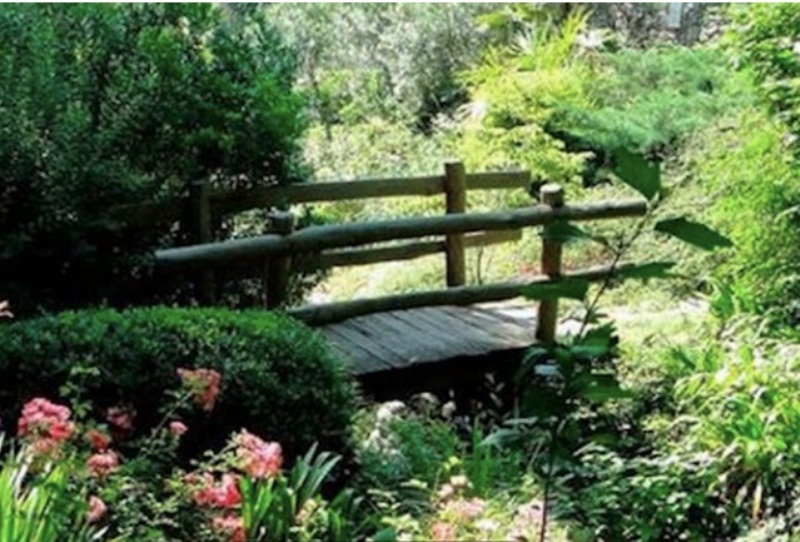 Giardino della Valle in Cernobbio Lake Como. A paradise in a former landfill ….
Cernobbio is one of the most famous tourist centers on the shores of Lake Como, favorite place of residence and holiday, with marvelous luxury villas that overlook the first basin of Lake Como or the slopes of the mountains that surround it, in addition to the historic villas as Villa d'Este, luxurious five-star hotel, Villa Erba (formerly owned by Luchino Visconti, now is a congress centre for international exhibition) and Villa Fontanelle (formerly owned by Gianni Versace), offers several opportunities for fun and entertainment.
Among the best things to see there is the Giardino della Valle in Cernobbio Lake Como. A paradise in a former landfill …………
The delightful botanical garden, an oasis of tranquility and reflection, is located in a valley, in the terminal stretch of the Garrovo torrent valley, along the walls of the Grand Hotel Villa d'Este in Cernobbio.
It was born about 30 years ago from the idea of Mrs. Pupa Frati, born in 1924, by all affectionately called Nonna Pupa, who is tired of seeing this part of her dear Cernobbio – Lake Como, in complete status of abandond and degradation, so as to be used as abusive landfill, began this work of recovery.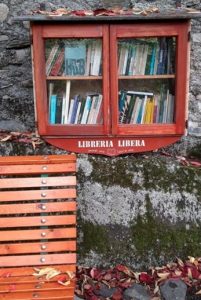 In the botanical garden, nature is left free to regenerate, without too many interventions, creating a wild and indomitable corner.
There are about 120 trees, shrubs and perennials – they are equipped with identification tags, so as to make a botanical journey possible.
In addition to the plants and trees, there are wooden statues of the local sculptor Giosué (called Giò) Aramini, benches in corners where to rest, the free library to take and read a book, bridges linking the different paths.
At the height of one of these, near a beautiful rose garden, there is a sign with a sonnet by William Shakespeare: "Beauty is more beautiful if virtue makes it sweet adornment. Bella is the rose, but more beautiful it seems from the sweet smell that lives inside ". On the sign there is also a hole through which you can admire the flowers and read, at the same time, the sonnet. Words are not only suited to roses but also to the human soul, which emanates its beauty not from its outward appearance, but from its own interiority.
The entrance to the garden is free and it is accessible either from via Plinio or via Adda.
Concerts and other activities are organized, such as drawing lessons in plain-air or sculpture, photography meetings or yoga sessions.
The garden is managed by a group of volunteers who share group gardening at least once a month, inviting citizens and tourists to help them in the maintenance of the park.
So if you want to enjoy a moment of relaxation and peace this is the ideal place: even if it is just a few steps from the road, the only sound is that of the creek and the vegetation guarantees full privacy.
Finally, if you think that Cernobbio and Lake Como can be the place to establish your residence, buying a prestigious villa on Lake Como, an apartment with a view of Lake Como or an elegant house in the town center renovated fully furnished, we of the Real Estate Tettamanti Re we can help you.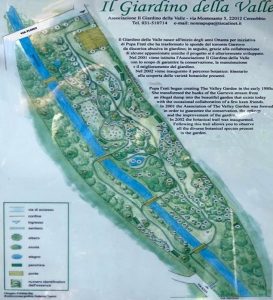 Map of  Giardino della Valle in Cernobbio Lake Como
For more information on the garden, see also the following sites:
http://www.ilgiardinodellavalle.it/
https://www.facebook.com/pg/ilgiardinodellavalle/posts/