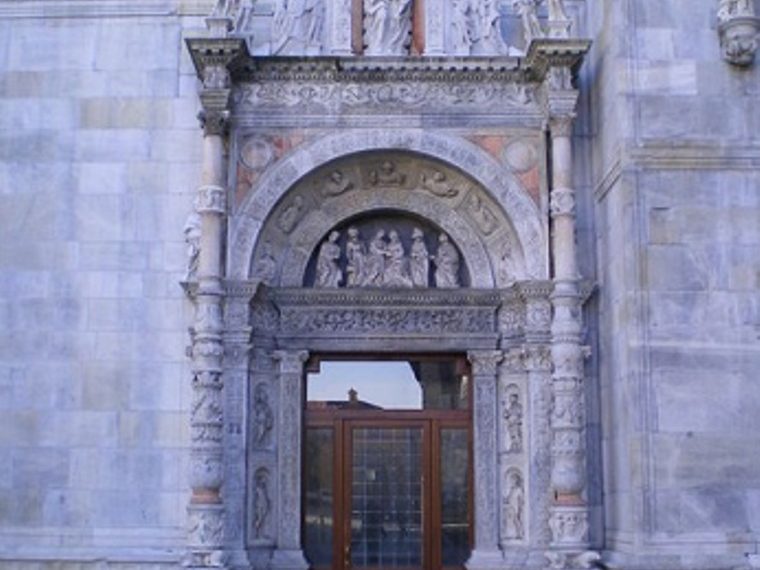 Symbols and curiosities of Como
There are some symbols and curiosities of Como that are now part of our tradition and when cell phones were not in use, some were used as places to meet.
If one tells to a Comasco to be at the Porta della Rana ( Frog Door) he knows that he will have to find himself in front of the northern side door of the Como Cathedral (Duomo of Como).
The door, carved in 1507 by the Rodari, of Renaissance character, is rich in figures ranging from the reproduction of the Metamorphosis of Ovid to the Triumph of the Assumption, depicted by the statue placed at the highest point of the structure.
Among these various figures of saints, angels, monsters, griffins, butterflies, the one that takes on particular meaning, which also gave the door its name, is a frog.
The reason why this symbol has been chosen among many figures leads to different hypotheses. Some say that the lake has arrived there (during a flood) and therefore the frog has petrified. Others indicate that beneath it there was a treasure, so much so that in 1852 excavations were made.
But more simply the frog has remained as an important symbol of metamorphosis, transformation and the drive for change.
Since 1912 the frog is headless (hit by the hammer of a madman). However, it achieves great success, is caressed as a symbol of luck and is therefore very smooth.
As well as inviting someone, in a playful way, to drink at the Green Dragon does not mean being in a trendy bar in Piazza Cavour – Como, but at the public fountain drinking water that flows from the dragon's jaws.
The construction of the fountain seems to date back to 1910, when Piazza Cavour was completely redone and redesigned. The fountain was created based on a project by Paolo Cattaneo, a Milanese engineer, and explicitly reproduces the statues that served as downspouts on the ancient Gothic cathedrals. Curious is that on one side of the fountain the same frog is reproduced, similar in every way, also in the attitude, that we find on the side door of the Cathedral, called precisely "door of the frog".
The midday, from 1912 to today, every day is punctuated by a cannon. It is a shot, which starts from a cannon located halfway along the funicular route that connects Como to Brunate.
La Dama della Cortesella ( Cortesella Lady), in the old quarter located between the streets Vitani, Muralto and Olginati is another symbol of Como where, from a fake window of the Sangiuliani palace, this Lady appears, who, according to some, follows with her eyes who observes it, like the most famous Gioconda – Mona Lisa. Of unknown author, dates back to the 1600s.
As well as the chimera and dragons in the portal of the Basilica of San Fedele overlooking Via Vittorio Emanuele II, where it is represented a chimera that bites a dragon, in turn banned by another dragon or the sarcophagus and the mummy of Isiuret, priestess of the God Ammon in the Archaeological Museum of Como, dating back to the 9th century BC